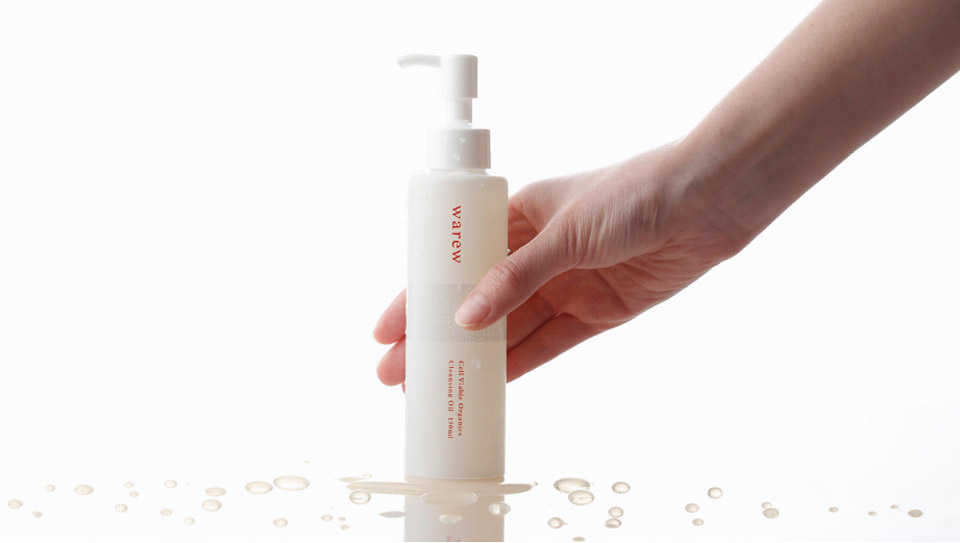 Wash
Wash the skin clean.
Skincare begins with washing the face. Doing so in the morning removes impurities that become lodged in the skin during sleep to give energy to the skin and mind for the day. Washing the face at night removes makeup as well as fatigue from the skin and mind at the end of the day. We considered that facial washing is an important event at both times in that it washes both the skin and mind clean. With our wish to provide a facial wash that calms your skin and mind, we only use carefully selected ingredients for our cleansing oil and facial cleanser. Products are enriched with < Cell Viable Complex >, a beauty ingredient that features the power of four herbs as well as domestic naturally derived ingredients and organic essential oil. Two items that feature both a cleansing power that removes what is unnecessary and protects that which is necessary, and a soothing scent are now available. warew facial cleansing products will take your skin and mind to a time of comfort.
Thoroughly cleanses the skin with rich oil.
An oil-based facial cleanser that features domestic rice bran oil (emollient) containing oleic acid and vitamin E. A rich, mellow oil, like a beauty oil, instantly removes impurities without straining the skin to leave the skin moisturized and soft. Upon application, you are enveloped in a refreshing aroma of bergamot and orange to clear your mind as well as impurities.
Procedure of Cleansing Oil
Directions for Use
Take an appropriate amount (three pumps from the dispenser) in a dry hand and spread over the entire face to bring impurities to the surface. Blend lukewarm water with the oil that has been spread on the face. Rinse thoroughly once the oil has turned white.
Procedure of Cleansing Oil
ORYZA SATIVA (RICE) BRAN OIL (emollient), Cell Viable Complex (PRUNUS MUME ROOT EXTRACT, PINUS DENSIFLORA LEAF EXTRACT, PRUNUS SERRULATA BARK EXTRACT, MAGNOLIA OBOVATA BARK EXTRACT) (moisturizer), PUNICA GRANATUM SEED OIL (emollient), PUNICA GRANATUM FLOWER EXTRACT (moisturizer), ANGELICA ACUTILOBA ROOT EXTRACT (moisturizer), LITHOSPERMUM OFFICINALE ROOT EXTRACT (moisturizer), PRUNUS MUME BRANCH/BUD/LEAF/TWIG WATER (moisturizer), PRUNUS MUME FRUIT WATER (moisturizer)
*BOSWELLIA CARTERII OIL, *PELARGONIUM GRAVEOLENS OIL, *ROSMARINUS OFFICINALIS (ROSEMARY) LEAF OIL, * CITRUS AURANTIUM BERGAMIA (BERGAMOT) FRUIT OIL, *CITRUS AURANTIUM DULCIS (ORANGE) PEEL OIL

ORYZA SATIVA (RICE) BRAN OIL , CAPRYLIC/CAPRIC TRIGLYCERIDE,ETHYLHEXYL STEARATE, PEG-20 GLYCERYL TRIISOSTEARATE, DODECANE, DICAPRYLYL ORYZA SATIVA (RICE) BRAN OIL , CAPRYLIC/CAPRIC TRIGLYCERIDE,ETHYLHEXYL STEARATE, PEG-20 GLYCERYL TRIISOSTEARATE, DODECANE, DICAPRYLYL CARBONATE, POLYGLYCERYL-10 DIOLEATE, POLYGLYCERYL-10 PENTACAPRYLATE, SQUALANE,ISOSTEARYL ALCOHOL, PUNICA, GRANATUM SEED OIL, ARGANIA SPINOSA KERNEL OIL, BOSWELLIA CARTERII OIL, PELARGONIUM GRAVEOLENS OIL, ROSMARINUS OFFICINALIS (ROSEMARY) LEAF OIL, CITRUS AURANTIUM BERGAMIA (BERGAMOT) FRUIT OIL, CITRUS AURANTIUM DULCIS (ORANGE) PEEL OIL, TOCOPHEROL, WATER, BUTYLENE GLYCOL, PROPANEDIOL,STEARYL GLYCYRRHETINATE, ANGELICA ACUTILOBA ROOT EXTRACT ,LITHOSPERMUM OFFICINALE ROOT EXTRACT, PUNICA GRANATUM FLOWER EXTRACT, PRUNUS SERRULATA BARK EXTRACT, PRUNUS MUME ROOT EXTRACT, PINUS DENSIFLORA LEAF EXTRACT, MAGNOLIA OBOVATA BARK EXTRACT, PRUNUS MUME BRANCH/BUD/LEAF/TWIG WATER, PRUNUS MUME FRUIT WATER