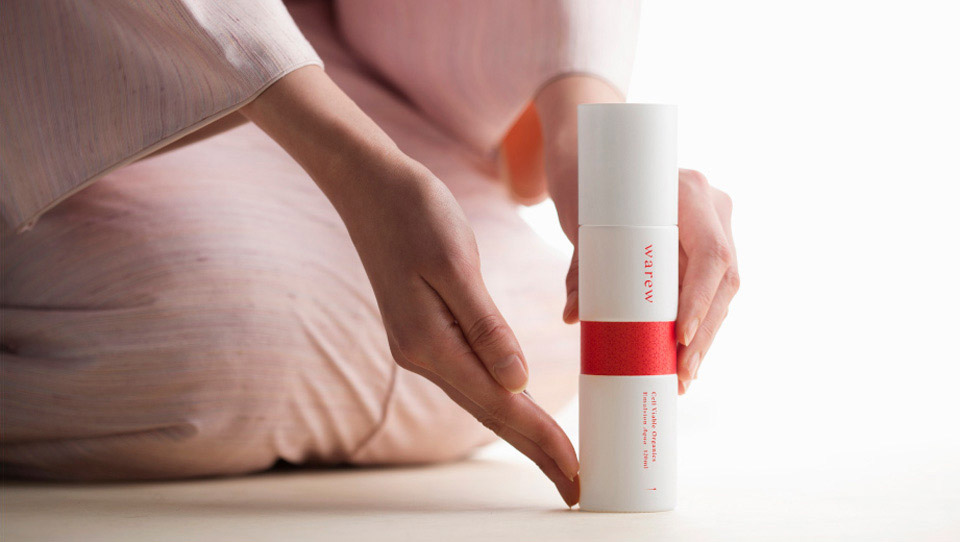 Conditioning
A drop of hope for those who won't give up on resilience and moisture.
When you routinely and diligently take care of your skin, you will notice a subtle change in it, such as improved resilience and radiance, immediately after washing the face. We consider time spent conditioning your skin to be a precious time in which you can check your skin's condition and deliver what it is lacking. If you feel resilience and radiance are lacking, it is essential to deliver moisture to the epidermis first and adjust the moisture balance (water, NMF and lipid). We have developed an emulsion that delivers moisture into the epidermis in a single application by combining emulsion that replenishes lipid and lotion that hydrates the skin. Then an organic essential oil is added to give an aromatic finish. There are three types to choose from depending on the skin's moisture condition. warew's emulsion leaves your skin and mind beautifully conditioned so that the product to be used in the next step will easily permeate.
Lightly blends with the skin, leaving it moisturized.
Micronized beauty ingredients, such as Cell Viable Complex *1featuring the power of four herbs and Concentrated Deep Sea Water*2 blend with the skin, as if absorbed into it, to deliver moisture to every corner of the skin, leaving it immaculately beautiful. Features a light lotion-like texture. The fragrant emulsion with refreshing essential oils of Rosemary and Palmarosa leaves the skin finely textured.
Procedure of Emulsion Aqua
Directions for Use
Take an appropriate amount (five pumps from the dispenser) in the palm of the hand. Warm product in the hands before spreading it over the entire face.
Reapply on dry areas.
Major ingredients (Featured Ingredients)
*1 Cell Viable Complex (PRUNUS MUME ROOT EXTRACT, PINUS DENSIFLORA LEAF EXTRACT, PRUNUS SERRULATA BARK EXTRACT, MAGNOLIA OBOVATA BARK EXTRACT) (moisturizer), *2 Concentrated Deep Sea Water (SEA SALT, SEA WATER) (moisturizer), PUNICA GRANATUM SEED OIL (emollient), PUNICA GRANATUM FLOWER EXTRACT (moisturizer), CERAMIDE 1 (moisturizer), CERAMIDE 2 (moisturizer), CERAMIDE 3 (moisturizer), SODIUM HYALURONATE (moisturizer), STEARYL GLYCYRRHETINATE (emollient), PHYTOSTERYL/OCTYLDODECYL LAUROYL GLUTAMATE (emollient), PRUNUS MUME BRANCH/BUD/LEAF/TWIG WATER (moisturizer), PRUNUS MUME FRUIT WATER (moisturizer), ONSEN-SUI (JTN) (moisturizer)
*BOSWELLIA CARTERII OIL, *PELARGONIUM GRAVEOLENS OIL, ROSA DAMASCENA FLOWER OIL, *CANANGA ODORATA FLOWER OIL, ROSMARINUS OFFICINALIS (ROSEMARY) LEAF OIL, * CYMBOPOGON MARTINI OIL, *CITRUS AURANTIUM DULCIS (ORANGE) PEEL OIL

PRUNUS MUME BRANCH/BUD/LEAF/TWIG WATER, PRUNUS MUME FRUIT WATER, ONSEN-SUI(JTN) , ALCOHOL, PROPANEDIOL, 1,2-HEXANEDIOL, GLYCERIN, RAFFINOSE, SQUALANE, GLYCINE SOJA (SOYBEAN) STEROLS, HYDROGENATED LECITHIN, PEG-60 HYDROGENATED CASTOR OIL, CAPRYLIC/CAPRIC TRIGLYCERIDE, PUNICA GRANATUM SEED OIL, BOSWELLIA CARTERII OIL, PELARGONIUM GRAVEOLENS OIL, ROSA DAMASCENA FLOWER OIL, CANANGA ODORATA FLOWER OIL, ROSMARINUS OFFICINALIS (ROSEMARY) LEAF OIL, CYMBOPOGON MARTINI OIL, CITRUS AURANTIUM DULCIS (ORANGE) PEEL OIL, SEA SALT, SEA WATER, WATER, BUTYLENE GLYCOL, CERAMIDE 1, CERAMIDE 2, CERAMIDE 3, STEARYL GLYCYRRHETINATE, HEPTYL UNDECYLENATE, PHYTOSTERYL/OCTYLDODECYL LAUROYL GLUTAMATE, SODIUM HYALURONATE, PUNICA GRANATUM FLOWER EXTRACT, PRUNUS SERRULATA BARK EXTRACT, PRUNUS MUME ROOT EXTRACT, PINUS DENSIFLORA LEAF EXTRACT, MAGNOLIA OBOVATA BARK EXTRACT