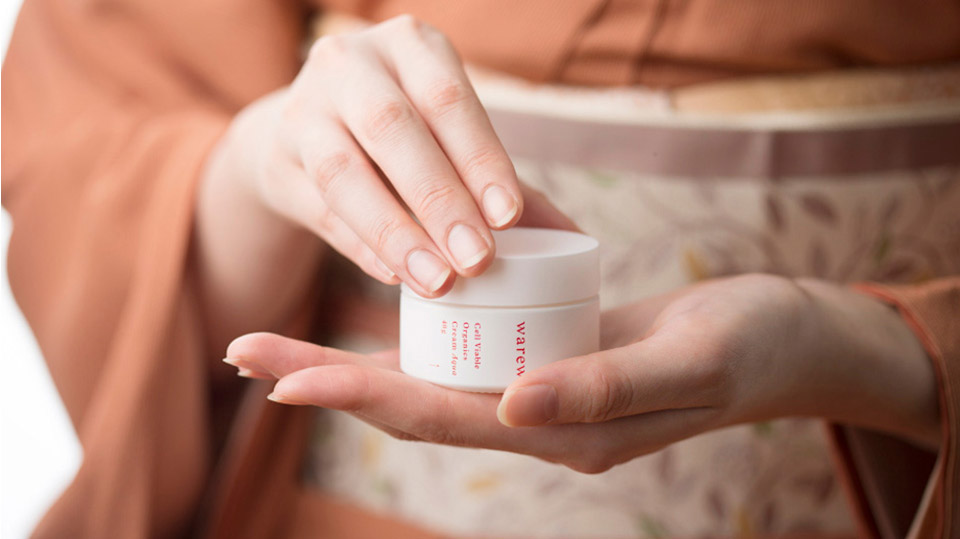 Replenish
Skin full of succulent resilience.
The secret to maintaining beautiful skin is to retain moisture as long as possible. Once moisture is delivered to the skin, it is important to fill it with a cream that is rich in beauty ingredients. We consider the Replenish step to be an opportunity to provide vibrant resilience to the skin and mind. warew's cream creates a veil on the skin's surface as well as thoroughly delivering beauty ingredients to the skin leaving it fully moisturized and resilient. Use together with special care products to feel the difference in your skin. There are two types to choose from depending on your skin condition.
Leaves natural skin succulent and resilient.
This is a cream in which beauty ingredients meltingly blend with the skin and envelop it with moisture. Fills every corner of your skin with rich moisture to leave it plump and resilient. A succulent gel cream with a sweet, refreshing Roman Chamomile scent envelops the skin with plenty of moisture while leaving the skin dry to the touch.
Procedure of Cream Aqua
Directions for Use
Take an appropriate amount (two 8 mm pearl-sized drops) in the palm of the hand. Warm the product in the hands before spreading over the entire face. Reapply on areas of concern.
Major ingredients (Featured Ingredients)
Cell Viable Complex (PRUNUS MUME ROOT EXTRACT, PINUS DENSIFLORA LEAF EXTRACT, PRUNUS SERRULATA BARK EXTRACT, MAGNOLIA OBOVATA BARK EXTRACT) (moisturizer), Concentrated Deep Sea Water (SEA SALT, SEA WATER) (moisturizer), PUNICA GRANATUM SEED OIL (emollient), PUNICA GRANATUM FLOWER EXTRACT (moisturizer), ROSA DAMASCENA PHYTOPLACENTA CULTURE EXTRACT (moisturizer), GLECHOMA HEDERACEA EXTRACT (moisturizer), PHYTOSTERYL/OCTYLDODECYL LAUROYL GLUTAMATE (moisturizer), PRUNUS MUME BRANCH/BUD/LEAF/TWIG WATER (moisturizer), PRUNUS MUME FRUIT WATER (moisturizer), ONSEN-SUI (JTN) (moisturizer)
BOSWELLIA CARTERII OIL, *BOSWELLIA CARTERII OIL, *PELARGONIUM GRAVEOLENS OIL, ROSA DAMASCENA FLOWER OIL, *CANANGA ODORATA FLOWER OIL, ROSMARINUS OFFICINALIS (ROSEMARY) LEAF OIL , * CYMBOPOGON MARTINI OIL, *ANTHEMIS NOBILIS FLOWER OIL

PRUNUS MUME FRUIT WATER, PRUNUS MUME BRANCH/BUD/LEAF/TWIG WATER, GLYCERIN, BUTYLENE GLYCOL, DIGLYCERIN, 1,2-HEXANEDIOL, SQUALANE, HYDROGENATED LECITHIN, GLYCINE SOJA (SOYBEAN) STEROLS, CAPRYLIC/CAPRIC TRIGLYCERIDE, PUNICA GRANATUM SEED OIL, SANTALUM ALBUM (SANDALWOOD) OIL, BOSWELLIA CARTERII OIL, PELARGONIUM, GRAVEOLENS OIL, ROSA DAMASCENA FLOWER OIL, CANANGA ODORATA FLOWER OIL, ROSMARINUS OFFICINALIS (ROSEMARY) LEAF OIL, CYMBOPOGON MARTINI OIL, ANTHEMIS NOBILIS FLOWER OIL, SEA SALT, SEA WATER, WATER, CARBOMER, PENTYLENE GLYCOL, PROPANEDIOL, STEARYL GLYCYRRHETINATE, HEPTYL UNDECYLENATE, PHYTOSTERYL/OCTYLDODECYL LAUROYL GLUTAMATE, ACRYLATES/C10-30 ALKYL ACRYLATE CROSSPOLYMER, HYDROXYPROPYL METHYLCELLULOSE, XANTHAN GUM, PUNICA GRANATUM FLOWER EXTRACT, ROSA DAMASCENA PHYTOPLACENTA CULTURE EXTRACT, PRUNUS SERRULATA BARK EXTRACT, PRUNUS MUME ROOT EXTRACT, PINUS DENSIFLORA LEAF EXTRACT, MAGNOLIA OBOVATA BARK EXTRACT, GLECHOMA HEDERACEA EXTRACT